The Colorado Springs Braves are an amateur 18 and over, open-divison team that has competed in Southern Colorado for the last 13 years. We are comprised of ex-pro, college, ex-college, and high school-level ball players and are always looking for talented players to help with the team's success. Our goals are to provide a fun and competitive environment for all players, and play team-level ball with a focus on winning the league championship.
---
Tribe Drops Playoff Nail-Biter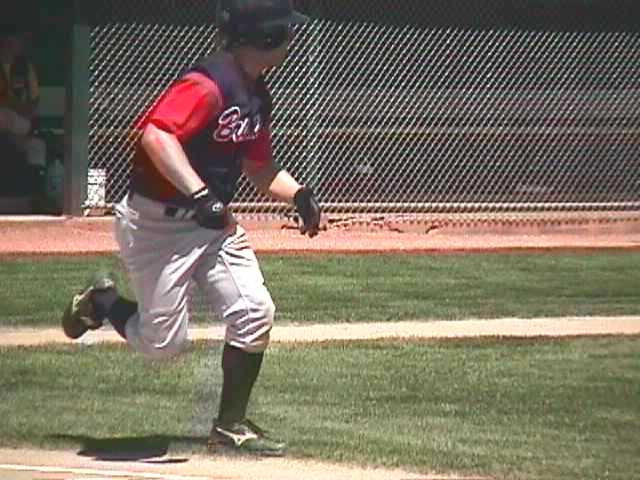 Dan Dreyer runs to 1st during his single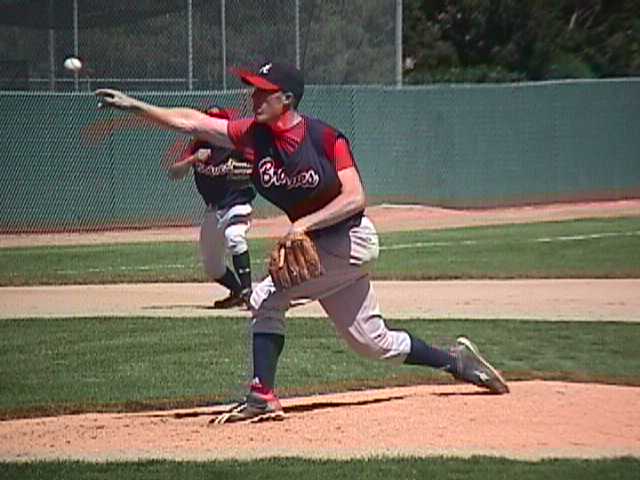 Eamonn McDonough fires away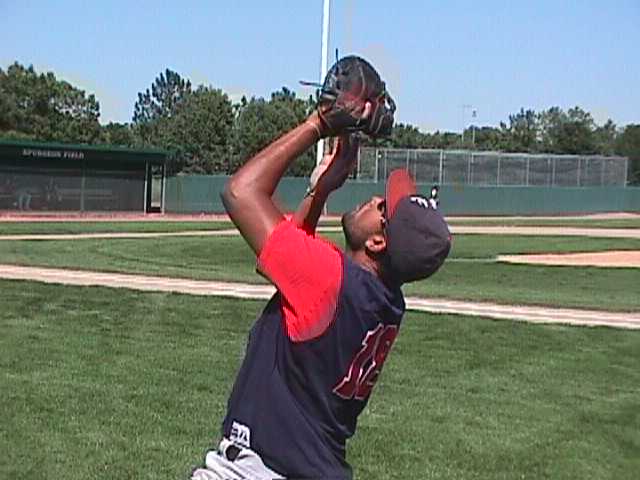 DJ Johnson catches a pop up
The open divisionís post season tourney began on Saturday, August 8th at Spurgeon Field @ Memorial Park. The 2 pm game matched the Braves against Haynes. The two teams were even in head-to-head play during the regular season. The Braves struck quickly plating 4 runs in the top of the first off of Haynesí starter Shawn Martinez. Haynes then rebounded; scoring a run in the 1st and 3 more in the 2nd off of Braves hurler Eamonn McDonough. Deadlocked after 3 complete, Haynes took the lead in the 4th when Will Jackson led off with homerun to left field. The Braves tied the score in the top of the 6th, but that was short lived as the Black & Gold sent 2 more home in their turn at bat. Trailing 5 -7 after 7 compete, the Tribe scored in the 8th to cut the lead to one. However, Martinez shut the team down 1-2-3 in the top of the 9th to earn the complete game win, while McDonough pitched 8 complete in the loss. In a nutshell the game was won and lost on errors. While Haynes played virtually error-free, a few slight errors in the field by the Braves allowed their opponents to advance on bases, get into scoring position, and take advantage with key hits. This, added by a few base running mishaps, was the true difference in the contest.

Honorable mention goes out to DJ Johnson who was 2-for-3 in the contest with double, a walk, a run and 2 RBI. Dan Dreyer and Mike Acosta each scored twice for the Brave. The team is now matched up against the Athletics and play on Tuesday, August 11th at Wasson Park at 6:30. The winner of that contest will play again on Friday evening.
---
Interested in playing for the Braves?


The Colorado Springs Braves are always in search of new talent to aide in the team's success. If you would like to try out for the Braves, click on the link below and fill out the form, and you will be contacted shortly.


Click here to Sign Up
---
Next Game- Tuesday, 11 August '09 at 6:30 @ Spurgeon vs. Athetlics

Tentative Playoff Schedule:
| | | | | | | | |
| --- | --- | --- | --- | --- | --- | --- | --- |
| Game | Date | Field | Time | Visitor | Score | Home | Score |
| 1 | Sat. August 8th | Spurgeon | 2:00 | Braves | 6 | Haynes | 7 |
| 2 | Sat. August 8th | Spurgeon | 600 | Athletics | 6 | Reds | 17 |
| 3 | Tue. August 11th | Spurgeon | 6:30 | Haynes | - | Reds | - |
| 4 | Tue. August 11th | Wasson | 6:30 | Athletics | - | Braves | - |
| 5 | Fri. August 14th | Spurgeon | 6:30 | Loser Game 3 | - | Winner Game 4 | - |
| 6 | Sat. September 5th | Security Service Field | TBD | Winner Game 5 | - | Winner Game 3 | - |


Next Practice - TBD
---
Contact Us
Rick Forge't-Manager/Coach
Brandy Forge't-Webmaster
---
You are visitor
---
This site was last updated on 10 August '09
---